Precision Machining Services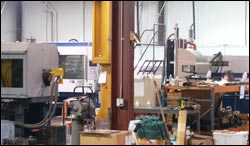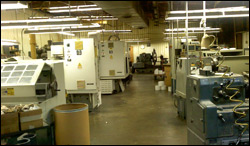 With one of the most technologoically-advanced manufacturing facilities, G.S.F. Plastics maintains a full line of manual and CNC lathes with a turning capacity of 46" in diameter. The milling department utilizes manual mills, CNC three, four and five axis mills to complete all customer requirements. For high volume parts, a full line of automatic screw machines with part capacity of 4" in diameter is available.
Our injection plastic molding service capabilities are:
400-ton clamp, 135 oz. shot, High Temp. Barrel, Corrosive resistant Screw.
230-ton clamp, 30 oz. shot, High Temp. Barrel, Corrosive resistant Screw.
Hot oil or chilled water for mold temperature control
Quality control dictates the machines never run unattended, and plastic molding service operations are constantly monitored. All machines make use of Statistical Process Control Technology for accurate and dependable part output.
G.S.F. Plastics also incorporates a state-of-the-art quality control system including a Zeiss C.M.M. All molded PEEK™ tubes are tested for voids and porosity before shipping.
At G.S.F. Plastics, full tractability is a vital part of the manufacturing process.
Founded in 1971, G.S.F. Plastics Corporation began their operations in the manufacturing of PTFE molded tubes and machine parts. In the early 80's, products manufactured of PEEK™ (Polyetheretherketone) were added, with tubes and solid rods produced in both the compression and injection molded proces. Today, our customers continue to rely on G.S.F. to provide the highest quality products with the highest physical properties.